1441 RAMADAN: IMAM IBNULQAYYIM ISLAMIC FOUNDATION DISTRIBUTES FOOD ITEMS, CASH TO THE NEEDY IN IBADAN
An Ibadan based charitable Islamic Organisation, Imam IbnulQayyim Islamic Foundation through her programme 1441 RAMADAN WELFARE PACKAGE distributed bags of rice, beans and yam flour to seventy (70) needy families in Ibadan on Friday 24th April, 2020 at Muflihun High School, Muslim-Ifelodun area, Ibadan.
The foundation also gave cash in addition to the above mentioned foodstuffs to selected twenty people mainly widows and divorces.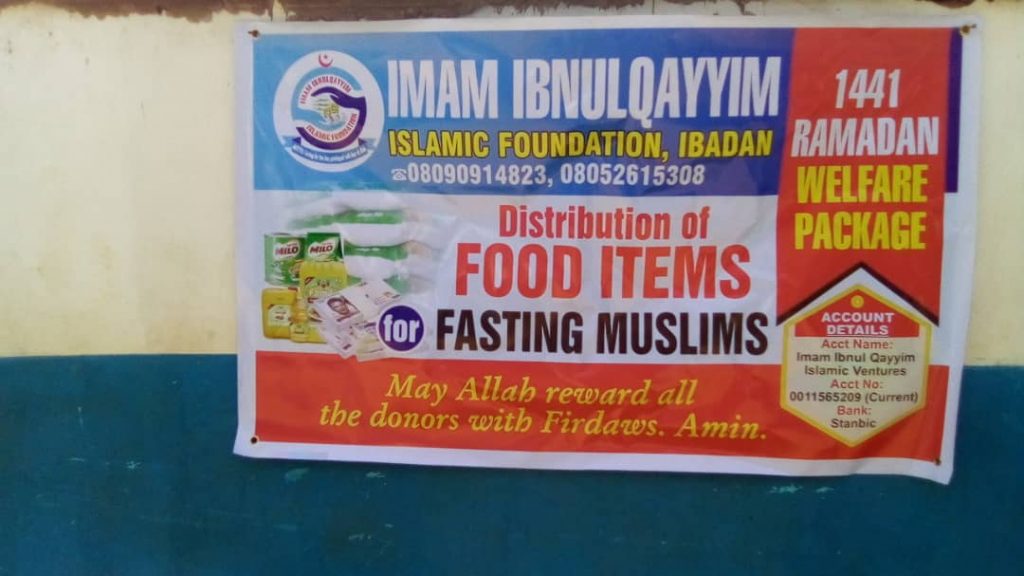 Ustadh Rasheed Adekunle Haashim, the Director of the Foundation, welcomed the recipients to the distribution center. He appreciated them for honouring the foundation's invitation. He made it known that the foundation has been embarking on provision of relief materials and welfare packages to Muslims in the blessed month of Ramadan and beyond since five years ago. But this 1441 edition coincides with covid 19 pandemic. He remarked that the management of Imam IbnulQayyim Islamic Foundation will not relent their efforts of making life comfortable for Muslim ummah.
Ustadh Haashim then urged well-to-do Nigerians to support the foundation in all its projects by donating generously to the foundation. He assured donors of judicious use of their donations as the motto of the foundation is: "Caring for the less privileged with fear of Allah."
He quoted a narration where the noble Prophet Muhammad (peace be upon him) said:
"Whoever relieves a believer from one of the difficulties of this world, Allah will relieve him from one of the difficulties of the Day of Resurrection. Whoever makes things easy for one in distress, Allah will make things easy for him in this world and in the hereafter." (Transmitted by Muslim)
In his concluding remarks, he profoundly appreciated all the donors and prayed Almighty Allah in His infinite mercy reward them with Firdaws and provide for them from His Bounties.
Malam Ishaq and Mrs Adegoke two of the IbnulQayyim officials in charge of the 1441 Ramadan Welfare Package firstly distributed tickets to the male and female recipients. The tickets were used to collect the Ramadan package in orderly manner. According to officials in charge, few minutes later, some people came in from nowhere asking for their own share of the relief package which compelled the foundation to provide three other bags of rice for free distribution.
One of the recipients, Mr Luqman, expressed his unalloyed appreciation to the management of IbnulQayyim. He supplicated to God to continue providing for the foundation and her supporters. Imam Nurudeen on behalf of his members who benefitted from the package thanked the foundation. He prayed Allah to let us witness many Ramadan on earth surface.