Notable Muslims on social media have called out afrobeats star, David Adeleke, popularly known as Davido, after posting a video on Twitter which some of his followers considered disrespectful to Islam.
Davido in the tweet accompanying the video had said: "Allow me to re-introduce, @logosori with his new single "Jaye Lo"… Lets Run It Up one time! Let's take over the world."
In the video, a group of men, all in white 'jalabiya', are seen praying outside of a mosque.
Then, in a twist, they all transitioned into dancing.
The reactions that followed were scathing, as many Muslims deemed it an affront to the Islam religion from the singer
Bashir Ahmad @BashirAhmaad, a former aide to ex-President Muhammadu Buhari, said: There are many reasons why every Muslim finds this content absolutely disrespectful, hurtful and offensive @davido. "I assume you all know that we Muslims don't mix our religion with jokes in any way, especially Salah (prayer), which is sacred and the second of the five pillars of Islam.
"In Salah, Muslims remember our Lord, Allah, express our love and respect for Him and invoke and strive to express our gratitude towards Him. The notion is that the Salah activity brings the individual face-to-face with God.
"That is what we believe, and that is our faith. Please respect it. No Muslim will find it as an honor or acceptable.
@Abdul_a_Bello wrote: This is absolutely offensive to the Muslim Ummah. You all know Muslim doesn't mix jokes and ridicule into religion but you keep finding a way to deride Islamic religious practice. You have millions of contents to make up for your video why most you bring Islam into it. This music video is all shades of WRONG!!!
@the_scholar1: The height of this ignorance and disrespect, this is unacceptable to the Muslim community. Please take it down and have some respect for the Muslims.
@Nawas_masood: This is unacceptable. We don't joke with our religion, but you guys keep finding a way to cross the line. Don't you have any respect for your Muslims fans?
@oil_shaekh: This is disgusting 🤮! Disrespectful and disgraceful to say but the least! As a seasoned musician you should know best to guide your signee on lines not to cross. Take this down immediately and tender an unreserved apology to the Muslim Ummah.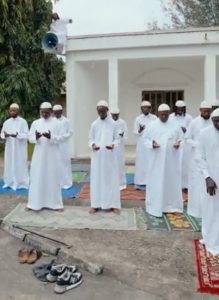 @Dipospeak: This is an absolute disgrace , very insensitive and disrespect to my religion and worship to my creator. These celebrities lack character and sense of judgement, no wonder the so called champions of a new Nigeria who placed their hopes in these empty headed and insensitive personalities won't achieve anything but continued division and hatred amongst Nigerians.
@Shehumahmed: The creation of this music content displays a complete lack of respect towards the Islamic religion and its community. It has caused immense hurt to millions of Muslim brothers and sisters who have come across this video.
Islam should never be treated as a playground for content without regard for its significance and sensitivity.
This video is a blatant insult to the Islamic religion, and I am compelled to address the producer and promoter directly. I demand that they immediately withdraw this video and issue a public apology to the Muslim community without any delay.
The aggrieved Muslim community, we take this matter seriously and expect swift action to rectify the harm caused by this offensive content. Failure to respond promptly and appropriately may lead to further legal action to protect the rights and sentiments of the Muslim community.
@SayyadaAlHurraa: This is not an exhibition of creativity, but rather a display of utter recklessness. The only thing exhibited in this situation is a clear lack of sensitivity and respect for other people's religion.