DAVIDO PULLS DOWN OFFENSIVE MUSICAL VIDEO AFTER PRESSURE FROM MUSLIM COMMUNITY
- Loses Over 100,000 Social Media Followers
Afrobeat Star, David Adeleke aka Davido has pulled down the controversial musical video that caused an outrage by the Muslim community in Nigeria.
Notable Muslims on social media called out afrobeats star, David Adeleke, popularly known as Davido, after posting a video on Twitter which some of his followers considered disrespectful to Islam.
Davido in the tweet accompanying the video had said: "Allow me to re-introduce, @logosori with his new single "Jaye Lo"… Lets Run It Up one time! Let's take over the world."
In the video, a group of men, all in white 'jalabiya', are seen praying outside of a mosque.
Several reactions greeted the post thus putting pressure on the artiste to pull down the post on his twitter handle.
Also, at least one hundred thousand followers on Davido's social media platforms unfollowed the music superstar.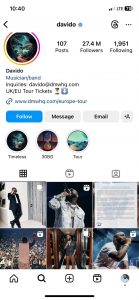 Despite deleting the Tweet, many social media users have called on him to issue an apology to the Muslim community over the offensive video.
@Hakim_Bmj: #davido you did the right thing for taking the post down but you have to apologize to the muslim community because it hurt more than you can imagine