150 PEOPLE BENEFITED FROM ZAKAAT AND AWQAAF AMANA FOUNDATION N12M ZAKAAT FUND DISBURSEMENT
Zakat and Awqaaf Amana Foundation (ZAAF), a non-governmental Islamic Foundation disbursed N12 million worth of assets and cash to 150 beneficiaries in her 2022 Zakat Disbursement Programme held at TSPC Schools, Toll Gate, Ibadan on Sunday, 28th August 2022.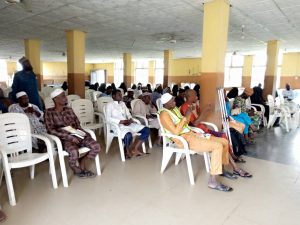 According to ZAAF Executive Secretary, Alhaji Nurudeen Yekeen, the materials distributed include: generating sets, sewing machines, electric sewing machines, shoe-making machines, electrical support materials, foodstuffs, phone engineering equipment, medicine stores drugs, and cash gifts. The distribution exercises mostly catered for economic empowerment, educational support, health support, and debt settlements.
In his speech, the Foundation's National Chairman, Shaykh Murtado AbdulGhaffar commended all Zakat payers. He made it known that the foundation will not deviate from the Islamic ethics of Zakat disbursement. He urged the wealthy and well-to-do Muslims who have not been paying Zakat to start paying it as it is one of the five fundamental pillars upon which Islam is built. He then urged the beneficiaries to judiciously utilize the Zakat given with fear of Allah as they too can start paying Zakat in the nearest future.
Delivering a thought-provoking and spiritually transforming lecture at the event, Ustādh Rasheed Haashim in a lecture titled: "Zakat as a Tool for Poverty Alleviation" explained that apart from the fact that Zakat purifies the payer's wealth and makes Allah bless their sources of income more, another important significance of Zakat is that it alleviates poverty in any society where it is being paid and distributed with fear of Allah. He advised the beneficiaries to move away from living a fake and luxurious life.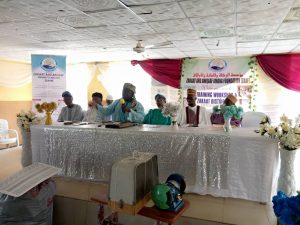 In his remark, ZAAF Executive Secretary, Alhaji Nurudeen Yekeen highlighted the activities of Zakat and Awqaaf Amana Foundation which include: Zakat assessment, Zakat collection, Zakat distribution, Waqf (endowment) management, Ramadan Welfare Package, Idul-Adha Welfare Relief, educational support, health support to mention but few. He appealed to the rich to contribute their quota to the actualization of the foundation's numerous charitable programs.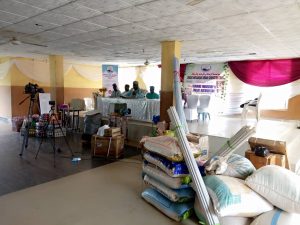 The extremely joyous recipients appreciated the donors and organizers of the event for deeming them fit for the Zakat out of numerous applications received. They supplicated to Allah to enrich the pocket of the donors and continue elevating the status of the foundation.