The Lagos Central Mosque is a main jum'at mosque on Lagos Island and the residence of the Lagos Chief Imam. It's located at Nnamdi Azikiwe Street, which is very busy area in lagos State. The new mosque, which replaced an earlier mosque constructed between 1908 and 1913, was dedicated in May 1988. The Chief Imam is the custodian of the mosque and leads the jumat service. Officials from the mosque's executive council have bestowed titles on individuals over the years. The Baba Adinni is a famous title that was first held by a Mr. Runmonkun and was recently conferred on A.W. Elias, Wahab Folawiyo, and Abdul Hafiz Abou. The first two holders of the title were involved in the building of a new modern mosque.
The Jamat Muslim Council of Lagos, which was created by an executive council of the Lagos Central Mosque in 1905, built the first central mosque in Lagos. In July 1913, the new mosque was completed, and it served the Lagos community for 70 years. Soon after the old central mosque's golden jubilee celebration in 1963, plans for a new mosque surfaced.
Some members considered the old mosque to be ancient and desired a new befitting edifice for da'wah, while others preferred an expansion of the old structure. In 1973, funds were raised for the building of an annex to the old mosque as well as the acquisition of adjoining properties. The proposal was eventually shelved because the majority of members preferred a new structure, and the old mosque was demolished in 1983. Members then went to a nearby Alli-Balogun mosque for Friday prayers before the new mosque was finished.
G. Cappa Ltd. designed the new mosque, which was inaugurated by the then Military President, General Ibrahim Babangida on May 28, 1988. It has four prominent minarets, two small and two tall, with the smaller ones atop the entrance and the taller ones flanking the building's west and east wings. The structure occupies about one acre of land and 50 meters of Nnamdi Azikiwe Parkway.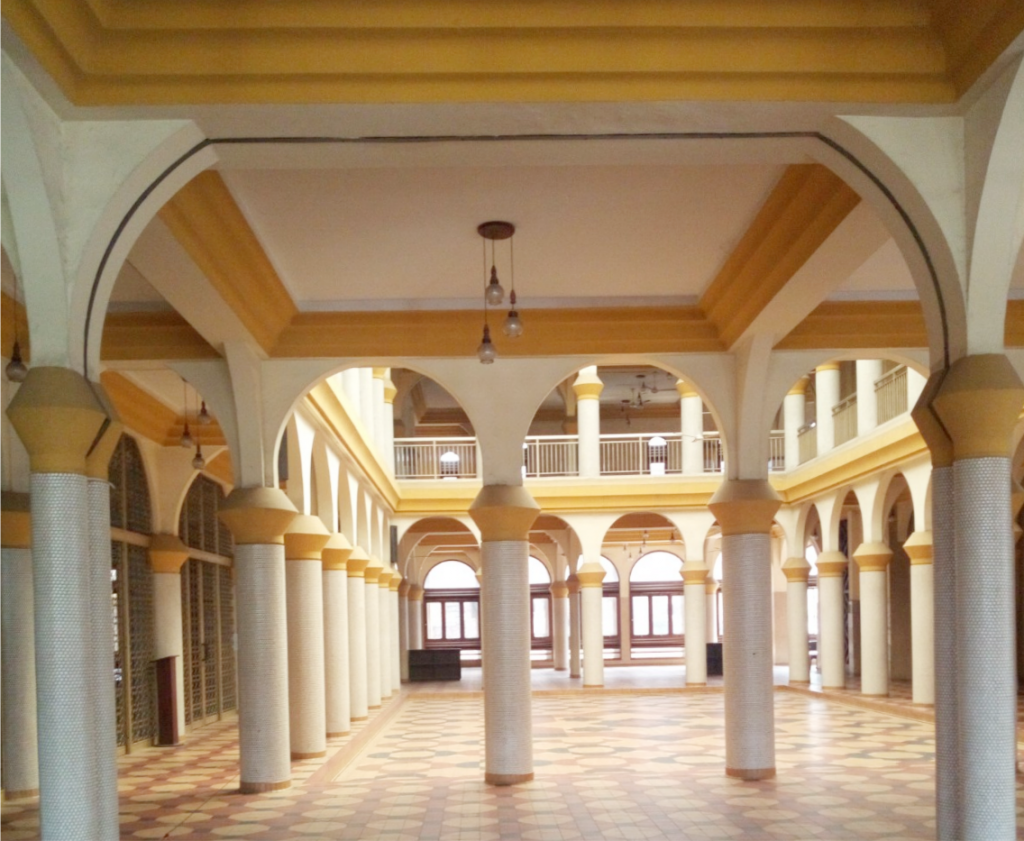 The new building's entrance leads to a riwaq with ornate columns, and the courtyard or Sahn is just beyond it. A 750-square-meter prayer hall with a 15-meter-diameter metal central dome that is visible from the outside due to its gold-plated aluminium cladding serves the prayer purpose. The vaults of deceased Imams and influential members, as well as a drive-in garage, are located underneath the structure. There are also offices, a reference library, an Islamic centre, and an apartment for the Chief Imam in the building.
Reference
Abbas, Femi (May 27, 1988). "The Central Mosque of Lagos Will Open Tomorrow." National Concord.
Randle, JK. "Tribute to the Chief (but not the last) Imam." Punch Newspapers is a company that publishes newspapers. On the 14th of September, 2018.