IMAM IBNULQAYYIM ISLAMIC FOUNDATION PUT SMILES ON THE FACES OF THE NEEDY MUSLIMS, DISTRIBUTED FOODSTUFFS AND CASH
Imam IbnulQayyim Islamic Foundation was at it again yesterday when it put smiles on the faces of the needy fasting Muslims through her project tagged 1442 RAMADAN WELFARE PACKAGE. The foundation distributed bags of rice, beans, yam flour, vegetable oil and tinned tomato paste yesterday Tuesday, 13th April, 2021 at Muflihun High School, Muslim-Ifelodun area, Ibadan.
The foundation also gave cash in addition to the above mentioned items to selected widows.
The beneficiaries most of whom are widows and the less privileged profoundly appreciated the foundation. They supplicated to Allah to continue enriching the donors and the management of the foundation. One of the recipients, Ummu Maryam, expressed her unalloyed appreciation to the management of IbnulQayyim. She remarked that this year's package is more superb than that of last year as vegetable oil and tinned tomato paste have been added to this year's package which were not inclusive last year. She expressed her joy on the relief materials given to her family. She then supplicated to Allah to continue providing for the foundation and her sponsors.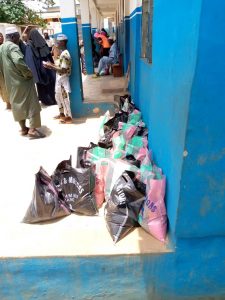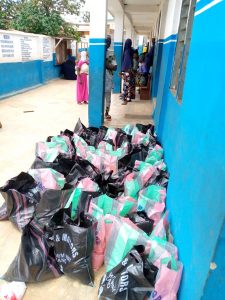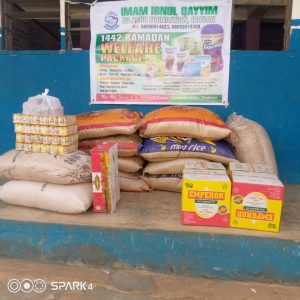 The Director of the Foundation, Ustãdh Rasheed Haashim,
welcomed the recipients to the distribution center. He appreciated them for honouring the foundation's invitation. He made it known that the foundation has been embarking on provision of relief materials and welfare packages to Muslims in the blessed month of Ramadan and beyond for years ago.
He appreciated the foundation's board of trustees, the committee members in charge of 1442 welfare package and all the sponsors of 1442 Ramadan Welfare Package. He specially appreciated members of Islamic Discussion Forum and Muslim Graduates of the University of Ilorin as over ninety percent of the funds were donated by them.
He promised that the management of Imam IbnulQayyim Islamic Foundation will not relent their efforts of making life comfortable for the poor Muslims.
Ustadh Haashim then urged well-to-do Nigerians to support the foundation in all its projects by donating generously to the foundation's Stanbic Account with account number 0011565209.
He assured donors of judicious use of their donations as the motto of the foundation still remains: "Caring for the less privileged with fear of Allah."
He reminded Muslims of a hadith where the noble Prophet Muhammad (peace be upon him) said: " Do not withhold your money by counting it (i.e. hoarding it), (for if you did so), Allah would also withhold His blessings from you." (Bukhari transmitted it)
In his concluding remarks, he profoundly appreciated all the sponsors of IbnulQayyim Islamic Foundation home and abroad and prayed Almighty Allah in His infinite mercy reward them with Firdaws and provide for them from His Bounties.