SAMIA HASSAN TO BE SWORN IN AS NEW PRESIDENT OF TANZANIA TODAY, BECOMING AFRICA'S FIRST MUSLIM WOMAN HEAD OF GOVERNMENT
Samia Suluhu Hassan will be sworn in as Tanzania 🇹🇿 President and will lead for the remainder of Magufuli's term until 2025. He had just been re-elected in November last year.
She becomes the first female President in Tanzania and East Africa.
Tanzania's President John Magufuli died on Wednesday. He had not been seen publicly since February 27. He was said to have passed on at about 6pm local time at the Mzena Hospital, in the capital; Dar-es-Salam from heart related complications.
Aged 61, Magufuli was born on October 29, 1959.
Son of a peasant farmer who became Tanzania's president in 2015, he was once praised for his no-nonsense approach, he went on to become a controversial leader, nicknamed the 'bulldozer' president, especially over his response to the coronavirus pandemic.
Hotjist.com reports that he was elected for a second term in 2020 amid opposition accusations of fraud and intimidation.
Before he was president he acquired the nickname "the bulldozer" for driving a programme to build roads as minister for works, and later was hailed for his anti-corruption stance and his distinct dislike for wasting money.
As president he was also accused of cracking down on dissent and curtailing certain freedoms, but following his death reflections on his time in power will be dominated by his idiosyncratic handling of Covid-19.
'Coronavirus is the devil'
When Covid-19 arrived in Tanzania, President Magufuli did not believe in people staying at home. He wanted them to get into the churches and mosques to pray.
"Coronavirus, which is a devil, cannot survive in the body of Christ… It will burn instantly," Magufuli, a devout Christian, pronounced from the altar of a church in the capital, Dodoma.
Since June 2020, when he declared the country "Covid-19 free", the president, along with other top government officials, mocked the efficacy of masks, doubted if testing worked, and teased neighbouring countries which imposed health measures to curb the virus.
There was little testing and no plans were made for a vaccination programme, leaving the country as an outlier.
But when he was sworn in as president in October 2015, Magufuli seemed to be the sort of person Tanzania needed – an efficient, incorruptible leader.
His results-oriented actions were also framed as applicable to other African countries – a dose of what the continent needed to deal with its governance issues.
On the very first day of his presidency, he sent a stark message that he would not tolerate the country's chronic absenteeism in its civil service, when he visited the finance ministry offices, asking for the whereabouts of those not at work.
He also purged thousands of so-called "ghost workers" – essentially non-existent employees – from the public payroll, and fired officials considered corrupt or under-performing, in public. Sometimes this was even done live on television.
And he clamped down on what he saw as extravagant spending, cancelling Independence Day celebrations for the first time in 54 years. Instead, he ordered a public clean-up, getting his own hands dirty by picking up rubbish outside State House.
John Magufuli at a glance
Born in Chato, north-west Tanzania, in 1959
Studied chemistry and maths at the University of Dar es Salaam
Worked as a chemistry and maths teacher
First elected as an MP in 1995
Became a cabinet minister in 2000
First elected president in 2015
Won second term in 2020
BRIEF HISTORY OF INCOMING PRESIDENT; SAMIA SULUHU HASSAN
Born 27th January, 1960; Samia Hassan.
She became Tanzania's first female vice-President following the 2015 General election, after being elected on the CCM ticket along with president John Magufuli. Suluhu and Magufuli were reelected to a second term in 2020. Before her tenure as vice-president she served as the Member of Parliament for Makunduchi constituency from 2010 to 2015, and was also the Minister of State in the Vice-President's Office for Union Affairs from 2010 to 2015.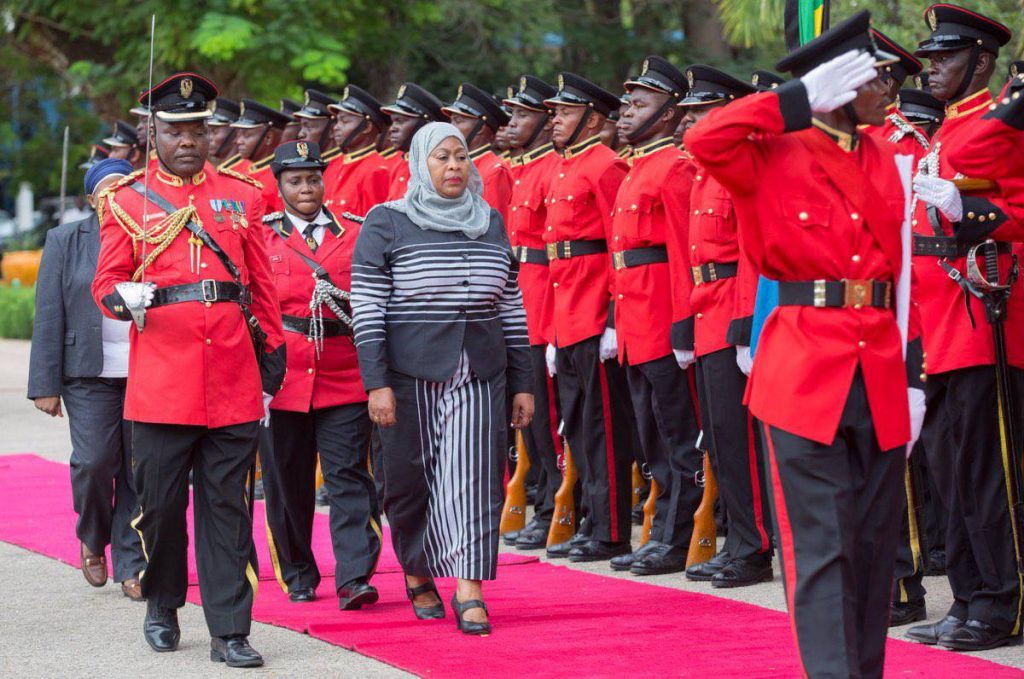 Prior to this, she served as a minister in the semi-autonomous region of Zanzibar in the administration of President Amani Karume. In 2014, she was elected as the Vice Chairperson of the Constituent Assembly tasked with drafting the country's new constitution.
Suluhu was born in the Sultanate of Zanzibar. After completing her secondary education in 1977, she was employed by the Ministry of Planning and Development as a clerk. She pursued a number of short-courses on a part-time basis. In 1986, she graduated from the Institute of Development Management (present-day Mzumbe University) with an advanced diploma in public administration.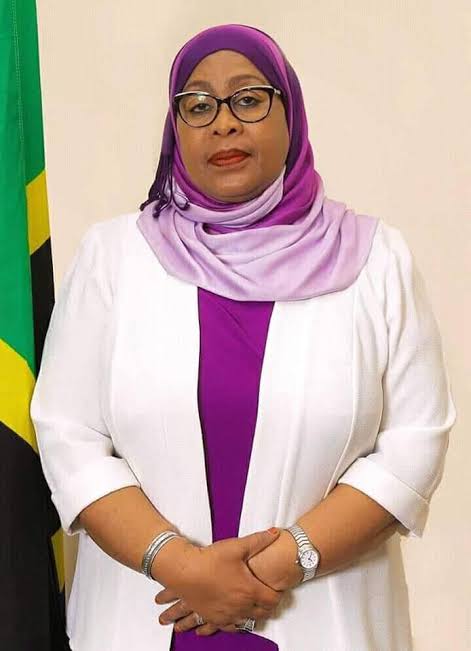 Upon graduation, she was employed on a project funded by the World Food Programme. Between 1992 and 1994, she attended the University of Manchester and graduated with a postgraduate diploma in economics.
In 2015, she obtained her MSc in Community Economic Development via a joint-programme between the Open University of Tanzania and the Southern New Hampshire University.
In 2000, she decided to join politics. She was elected as a special seat member to the Zanzibar House of Representatives and was appointed a minister by President Amani Karume. She was the only high-ranking woman minister in the cabinet and was "looked down on" by her male colleagues because of her gender.[3] She was re-elected in 2005 and was re-appointed as a minister in another portfolio.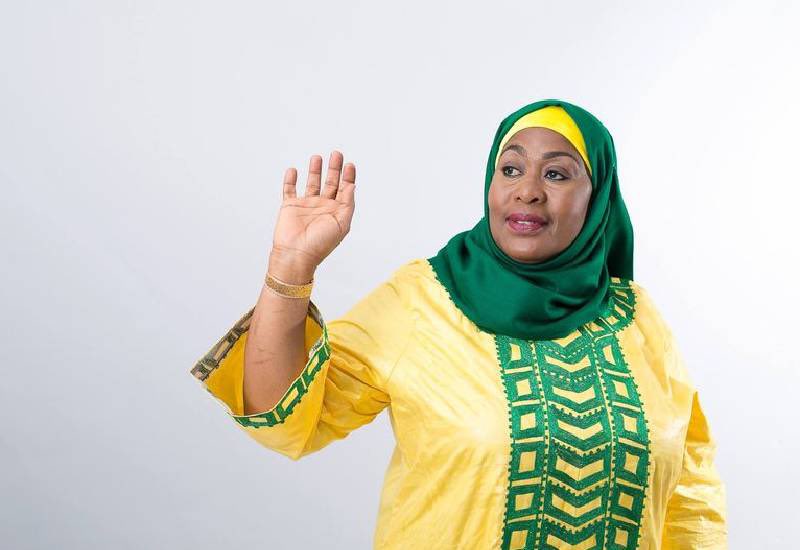 In 2010, she sought election to the National Assembly, standing in the parliamentary constituency of Makunduchi and winning by more than 80%. President Jakaya Kikwete appointed her as the Minister of State for Union Affairs.
In 2014, she was elected as the Vice Chairperson of the Constituent Assembly tasked with drafting the country's new constitution.
In July 2015, CCM's presidential nominee John Magufuli chose her as his running mate for the 2015 election, making her the first female running mate in the party's history. She subsequently became the first female vice-president in the history of the country upon Magufuli's victory in the election.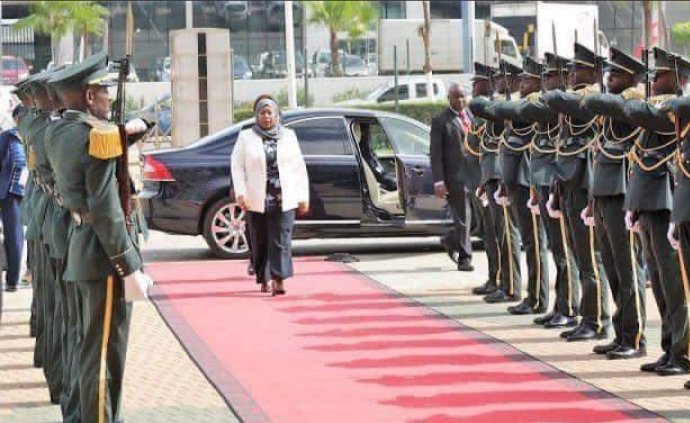 After Magufuli's death on 17 March 2021, Suluhu became the 6th President of Tanzania, and the country's first female president.
In 1978, she married Hafidh Ameir, at present a retired agricultural officer. They have four children. Her daughter Wanu Hafidh Ameir (born 1982), the second child, is a special seat member of the Zanzibar House of Representatives.
#hotjist #tanzania #daressalaam #SamiaHassan #3SixtyIslam #hijab #hijabista #muslimah