No student will be allowed to use Hijab in my school
The Principal of Aguda Community Senior Secondary School, Surulere, Lagos, Mrs Ajilore Adeola has dared the Lagos State Governor, Mr Akinwunmi Ambode, saying that no Muslim student will be allowed to use the Hijab in the school she leads.
The Principal reportedly made the disclosure in a meeting with the executives of MSSN Coker Aguda Area Council, who visited the school early today, Monday.
The Area Council executives, led by their Secretary, Mallam Rasheed Taiwo were in the school to ensure that female students who were willing to use the Hijab on their school uniforms are allowed inside the school premises, in line with the directive from the Lagos State Government to permit and facilitate such.
Mr Taiwo revealed that the leadership of the student body received distress calls from the students, who lamented non-compliance with the Lagos State Government circular approving the use of the Hijab by the school principal.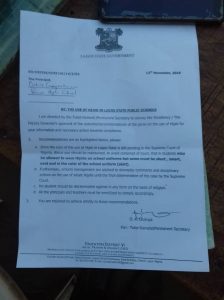 "We decided to come here today, Monday as early as 7:45 am. We met the Vice Principal, Mrs Tijani, a Muslim, who listened to our explanations and allowed the students inside the school with their Hijabs.
"It was however sad that when the Principal, Mrs Ajilore arrived and saw some of the students in Hijab, she became angry and summoned them. She insisted that the Hijab will not be allowed in the school. Those who want to wear it can do so after school hours, she said.
"She later distributed Christian berets to the students. Those who resisted were sent out of the school premises", Mr Taiwo said.
Muslim News can authoritatviely confirm that five students were sent out of the school for refusing to remove their Hijabs. The affected students are Mariam Alabi, Ibrahim Fathia, Ajao Aishat, Shomefun Nafisat and Idris Mutiat.
One of the victims of the Hijab assault, Fathia Ibrahim, an SSS Ic student, was later allowed to write her first term geography paper in the Vice Principal's office with beret on after her mates had already finished theirs.
It would be recalled that the Lagos State Government had on November 13 sent a circular to its schools, approving the use of the Hijab by Muslim female students.
Some school principals and administrators, including the principal of Aguda Community Senior Secondary School have refused to comply with the circular, thereby preventing students from using Hijabs on their school uniforms.