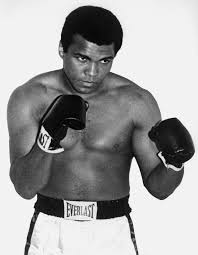 1. Muhammad Ali
Legendary heavyweight boxing champion, Muhammad Ali, is a devout Muslim. In a December 2015 statement, he told NBC News, "I am a Muslim and there is nothing Islamic about killing innocent people in Paris, San Bernardino, or anywhere else in the world. True Muslims know that the ruthless violence of so called Islamic Jihadists goes against the very tenets of our religion… Our political leaders should use their position to bring understanding about the religion of Islam and clarify that these misguided murderers have perverted people's views on what Islam really is."
2. Zayn Malik
Former One Direction singer Zayn Malik is easily one of the most famous Muslims in pop culture today. And unfortunately, his religious identity has been a seemingly constant source of criticism and conflict for the star.
In 2012, conservative blogger Debbie Schlussel cautioned parents, "Jihad is sneaking into American girls' favorite pop band." In 2013, American rapper Rucka Rucka Ali released a track with the refrain, "Zayn Hussein did 9/11." Then in 2015, comedian Bill Maher compared the British Pakistani pop star's appearance to that of Boston Marathon bomber Dzhokhar Tsarnaev.
And through it all, Malik has also met with harsh criticism from conservative Muslims, who view his smoking, tattoos and pop star lifestyle as inconsistent with the teachings of Islam.
3. Mahershala Ali
While accepting a Screen Actors Guild Award in January 2017, the actor spoke out against Trump's executive order banning some refugees and immigrants from seven predominantly Muslim countries from entering the U.S.
Ali, also known for his work in "Hidden Figures" and "House of Cards," made his statement personal by talking about his own conversion to the Muslim faith 17 years earlier.
4. Shaq
Shaquille O'Neal played for six different teams over the course of his 19-year NBA career, most notably the Orland Magic, the L.A. Lakers and the Miami Heat. A talented 7'1'' center, he led his teams to four NBA Championships and was a 15-time NBA All-Star.
When asked in a 2010 interview who he thought the best center of all time was, Shaq answered, "Another Muslim brother, Hakeem Olajuwon." He then confirmed his plans to visit Turkey and one day undertake the Muslim pilgrimage, called Hajj.
5. Janet Jackson
The youngest member of the Jackson family, Janet Jackson has been a pop culture icon and sex symbol for decades. She has sold over 160 million records and won five Grammys for her extensive catalog of hits, including "Nasty," "That's the Way Love Goes," and "All For You."
Jackson converted to Islam in 2015, just a few years after marrying Muslim billionaire Wissam Al Mana, and toned down the sexuality of her costumes and lyrics accordingly.
6. Dr. Oz
Dr. Mehmet Oz is an acclaimed cardiothoracic surgeon at New York-Presbyterian Hospital, as well as an author and the host of the popular health and wellness TV series, "The Dr. Oz Show." The Turkish-American doctor is also a Muslim.
In an interview with PBS' "Faces of America," Dr. Oz explained that his father comes from Turkey's "Quran Belt" and his mother was a secular Turk. "You know, I've struggled a lot with my Muslim identity," he explained. "As a Turk, growing up in America with one parent from one side of the religious wall and one parent from the other side, and of course America clearly supporting the secular background, I found myself tugged more and more towards the spiritual side of the religion, rather than the legal side of the religion."
7. Malala
When Pakistani schoolgirl Malala Yousafzai survived being shot in the head by the Taliban, she became one of the most famous teenagers in the world. And she has used that fame to champion education rights for girls in the Middle East. She is now the youngest ever Nobel Prize laureate, and has been named one of Time magazine's "100 Most Influential People in the World" three years in a row (2013, 2014 and 2015).
In an interview with the AFP following Donald Trump's call to ban Muslims from entering the U.S., Yousafzai said, "That's really tragic that you hear these comments which are full of hatred, full of this ideology of being discriminative towards others." She then told Channel 4 in the UK, "The more you speak about Islam and against all Muslims, the more terrorists we create."
8. Hakeem Olajuwon
Hakeem Abdul Olajuwon is widely considered one of the best centers to ever play the game. After leading the University of Houston to three Final Fours, Olajuwon was selected by the Houston Rockets as the first overall pick of the 1984 NBA draft, over Michael Jordan.
He then led the Rockets to back-to-back NBA Championships in 1994 and 1995, taking home the title of NBA Finals MVP both years as well. Nicknamed "The Dream" for his demeanor on and off the court, Olajuwon changed his name to the proper Arabic spelling when he became a more devout Muslim in 1991.
9. Dave Chappelle
In the late '90s and early '00s, Dave Chappelle was considered one of the funniest men in America. He scored roles in major movies, like "The Nutty Professor," "Con Air," and "Half Baked. His standup was widely celebrated. And his sketch comedy TV series, "Chappelle's Show," was one of the hottest shows on air.
Raised by a Unitarian Universalist minister, Chappelle converted to Islam in 1998. Seven years later, he told Time magazine, "I don't normally talk about my religion publicly because I don't want people to associate me and my flaws with this beautiful thing. And I believe it is beautiful if you learn it the right way."
10. Ice Cube
Hip hop artist Ice Cube rose to prominence in the gangster rap group N.W.A, then enjoyed a successful solo career in both rap music and Hollywood films. Cube converted to Islam shortly after going solo in the 1990s.
In a February 2000 interview with The Guardian, he explained the nuances of his identity as a Muslim: "I mean, what I call myself is a natural Muslim, 'cause it's just me and God. You know, going to the mosque, the ritual and the tradition, it's just not in me to do. So I don't do it."
11. Mike Tyson
The former undisputed heavyweight champion of the world, Mike Tyson has held all three major championship belts that boxing has to offer. You also probably know that he was once disqualified for biting Evander Holyfield's ear. But did you know Tyson is a proud Muslim?
In 2013, Tyson told Fox 411, "I'm very grateful to be a Muslim. Allah doesn't need me, I need Allah." In an October 2014 interview with Howard Stern, Tyson then spoke out against Islamic extremists: "I'm really appalled… Religion is not bad. It's people that make religion bad."
12. Ellen Burstyn
Actress Ellen Burstyn is one of only a few people, who have ever won the Triple Crown of Acting (an Oscar, an Emmy and a Tony). She has 150 film credits and countless theater ones. Burstyn was raised Catholic, but now she considers herself open to the truths of all faiths, practicing a combination of Sufi Islam, Hinduism, Buddhism and Christianity.
In 2006, she told Beliefnet, "I traveled to Europe and I climbed the Alps and went up to a Sufi camp conducted by Pir Vilayat Kahn. I was initiated up there… There's a Sufi prayer I say very often. 'Oh Thou, the sustainer of our bodies, hearts, and souls, bless all that we receive in gratitude.'"
13. Kareem Abdul-Jabbar
Legendary Lakers center and all-time NBA leading scorer, Kareem Abdul-Jabbar, was born Lew Alcindor in New York City and raised Roman Catholic. At the age of 24, however, he converted to Islam and changed his name to the moniker we all now know.
An outspoken proponent of his faith ever since, Abdul-Jabbar addressed the current tensions in America, in a 2015 interview with NPR: "I don't have any misgiving about my faith. I'm very concerned about the people who claim to be Muslims that are murdering people and creating all this mayhem in the world. That is not what Islam is about, and that should not be what people think of when they think about Muslims. But it's up to all of us to do something about all of it."
14. Lupe Fiasco
American rapper Lupe Fiasco initially disliked the musical genre of hip hop because of its tendency to promote drugs, vulgarity, violence and misogyny. Now, however, he manages to avoid temptation and produce a unique brand of rap, in keeping with his Muslim faith.
In 2014, Lupe Fiasco opened up with Katie Couric on Yahoo's digital Web series, World 3.0, about reconciling his lifestyle as a rapper with his religious identity as a Muslim. "At the end of the day, we're human," he said. "We have faults. We make mistakes. You know, that's what the religion is for, to help you correct your mistakes."
15. Iman Mohamed Abdulmajid, the Somali-America fashion model, entrepreneur and actress professionally known as "Iman," is Muslim. In fact, her stage name quite literally means "faith" in Arabic.
In the 2001 memoir, "I Am Iman," she wrote with husband David Bowie, the former supermodel speaks of the difficulties of being a Muslim in the fashion industry: "Somalia is a moderate Muslim country, but my religion dictates that this is not a profession I should be in." Perhaps as a way of repenting for her time in that industry, Iman then writes in the book's closing pages, "May Allah have mercy on my soul if I have sinned."
16. Jermaine Jackson
Much like his sister Janet, Jermaine Jackson was raised as a Jehovah's Witness, but converted to Islam later in life, after a life-changing trip to Bahrain.
In June 2010, he told the BBC's Ed Butler, "I felt that if Michael would have embraced Islam he would still be here today… All of his security became Muslims because he trusted Islam, because these are people who would lay their lives down and also who were trying to be the best kind of human beings they could possibly be, not for Michael Jackson, for Allah."
17. Cat Stevens
Yusuf Islam, the folk artist formerly known as Cat Stevens, publicly converted to Islam in 1977. Over the next few years, he changed his name, auctioned off all his guitars for charity, and left his successful music career behind because he decided it was counter to his faith. Then, a few months after 9/11, he picked up a guitar again.
"There was so much antagonism in the world," he told Rolling Stone in January 2015. "Many Muslims have come up to me, shook my hand and said, 'Thank you! Thank you.' I'm representing the way they want to be seen. So much of the middle ground gets forgotten in the extremities we witness around the world."
18. Busta Rhymes
American hip hop artist Busta Rhymes, born Trevor Tahiem Smith, Jr., is a proud Muslim and attributes much of his success to the way in which his faith has kept him grounded.
In a 2007 interview with Hollywood TV, Rhymes said, "I try to really just understand every aspect about the most high. For me, the most high is Allah… And I live my life by Islam. At the end of the day, I think that's pretty much what grounds me in the way that I think most people should be grounded. That's just enjoying who you are as a human life, as opposed to trying to add all these other additive and preservatives to your perspective on life."
19. Aasif Mandvi
Indian-American actor Aasif Hakim Mandviwala, known professionally as Aasif Mandvi, has appeared in a number of major Hollywood films, including "Spider-Man 2," "Die Hard: With a Vengeance" and "The Internship." He is the author of the book, "No Man's Land," and a writer, actor and co-producer on the HBO series, "The Brink." Mandvi is perhaps best known, however, for playing the "Senior Muslim Correspondent" on "The Daily Show."
20. Akon
Akon, the R&B singer known for hits like "Smack That" and "I Wanna Love You," is a Muslim, whose full name is Aliaume Damala Badara Akon Thiam. Born in St. Louis, Missouri, Akon considers the West African country of Senegal his hometown because he spent much of his childhood there.
In June 2015, ahead of a performance in Morocco, he spoke with The National newspaper in Abu Dhabi about his career and his faith: "I was born a Muslim… and there has always been a debate about Islam and music. I never looked at the performing aspect of the music itself, but on the intention. Even if you look at the daily prayers in Islam, we pray in melody. When we hear the call to prayer in any part of the world, it is also done with melody. So, no one can tell me that music is haram."
Q-Tip
Acclaimed rapper and hip hop producer, Q-Tip, who rose to fame as part of the group, A Tribe Called Quest, was born Jonathan Davis in 1970. In 1990, he converted to Islam and changed his name to Kamaal Ibn John Fareed.
"I read the Koran and it appealed to me," Q-Tip told The Guardian of his conversion to Islam in the '90s. "At the time I was agnostic and it really breathed spiritually back into me… For me it's really a cushion. It's cool. I'm cool with it."
22. Mos Def
East Coast rapper Mos Def, a Brooklyn, New York native, is a vocal Muslim and one of only a few hip hop artists to ever successfully incorporate religious and social beliefs into mainstream music. In fact, the first lyrics on his breakthrough album, "Black on Both Sides" were, "Bismillah ar-Rahman ar-Raheem" ("In the name of God, the most gracious, the most merciful."
"You're not gonna get through life without being worshipful or devoted to something," he told Beliefnet in 2001. "You're either devoted to your job, or to your desires. So the best way to spend your life is to try to be devoted to prayer, to Allah."
23. Omar Sharif
Egyptian actor Omar Sharif, best known for his performances in "Lawrence of Arabia," "Doctor Zhivago" and "Funny Girl," died in July 2015, at the age of 83. For most of his life, he was a Muslim.
Born Michel Dimitri Chalhoub, the three-time Golden Globe-winning actor changed his name and converted to Islam in 1955 to marry Egyptian actress Faten Hamama, whom he later divorced in 1974.
24. Faran Tahir
Pakistani-American actor Faran Tahir, best known for his roles in "Iron Man," "Star Trek" and "24," is not only Muslim in real life, he has played many memorable Muslim characters on the screen as well. In "Grey's Anatomy," for example, he played the character of Isaac, a lab tech who learns that he has an inoperable tumor, then demonstrates patience, faith and optimism in the face of that news.
25. Indian actor Sahabzade Irrfan Ali Khan, known professionally as Irrfan Khan or just Irrfan, has appeared in a number of major Hollywood movies, including "Life of Pi," "Slumdog Millionaire," and "Jurassic World," in addition to over 50 Bollywood films. Khan was born in Jaipur, Rajasthan, and raised a Muslim. He is married to Hindu writer and actress Sutapa Sikdar. They have two sons.