I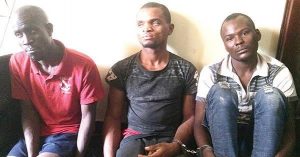 ONLY ROB EXPATRIATE WORSHIPERS AT NATIONAL MOSQUE – SUSPECT
A suspect, Bashir Adamu, who was arrested for allegedly assaulting motorists and snatching phones and handbags, on Tuesday said his targets were expatriates who worshipped at the National Mosque, Abuja.
The 27-year-old, who was arrested along with two others, told PUNCH Metro on Tuesday that he operated on Fridays during Juma'atprayers.
He added that he had stolen phones at the National Mosque twice before he was apprehended by the Federal Capital Territory police operatives.
Adamu claimed that he had stolen only two phones, adding that the first handset was recovered by its owner, while the police retrieved the second stolen phone.
But police sources noted that the suspect was arrested about a fortnight ago for snatching a phone at the mosque, adding that he was arraigned and granted bail before he was re-arrested for a similar offence last Friday.
Adamu, who admitted that he was just released on bail, said, "I only target oyinbopeople (expatriates) who come to the National Mosque to pray on Fridays.
"Sometimes, they give alms and while they are doing that, I steal their phones or bags from their car and run. I use the money to feed," he added.
Another suspect, Alex Chidubem, 30, was arrested after allegedly stabbing a technician, Yusuf Awala, from whom he had allegedly stolen a phone.
Awala, who sustained knife injuries in the left arm, explained that Chidubem attacked him because he (Awala) sighted him where he hid near the National Mosque.
"He (Chidubem) tried to stab me in the stomach, but I blocked him and he stabbed me in the arm," Awala, whose arm was bandaged, said.
But Chidubem denied the allegation, saying he was on the way to meeting someone who had promised to get him a job as a car wash attendant when he was arrested.
"I was on my way to see the person who promised me a job when a policeman stopped me around the mosque and demanded my identity card. When I could not provide any, he arrested me," he said.
An Abuja resident, Rodney Osaji, who was instrumental to Chidubem's arrest, said when he saw his suspicious movement, he concluded that he was a criminal.
He noted that he (Osaji) immediately alighted from the car and held him.
"I asked a taxi driver to get the police and when they arrested him, his victims identified him as a serial phone and bag snatcher," he added.
The third suspect, Ibrahim Mohammed, 22, explained that he had stolen two phones and had been arrested three times for the same crime.
The FCT police spokesman, Anjuguri Manzah, said the suspects would be arraigned in court at the end of investigations.