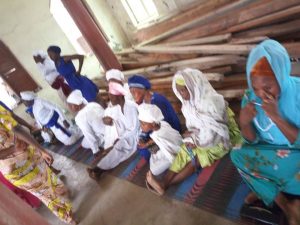 According to an eye witness report, who went to observe Jumat prayer at the Central mosque in Eruwa, he saw members of the white garments church in the mosque , there to observe Jumat as well.
On enquiry from some of the jamah at the mosque, he was told that their church leader who just ''got down from the mountain'' is at the mosque for Jumat to give thanks to God. And when he also asked from one of the white garment members to confirm he was told the same thing, the woman added that their leader is at the mosque because ''we worship the same God''.
According to the woman, their Pastor is here to observe solat to gives thanks to God after climbing mountain and being in the spirit for a whole month. So they are there to give thanks. She said Muslims were also in their church yesterday night to do Asalatu, that in their land Eruwa they are united.
Dear Muslims brothers and sisters, is this the type of unity Allah asked of us?