HAJJ 2024: NAHCON ADVISES PILGRIMS TO SAVE N4.5M EACH
Allocates 70,000 Slots to State Pilgrims Boards and Armed Forces
The National Hajj Commission of Nigeria, (NAHCON) has kick-started preparations for the 2024 Hajj Pilgrimage with the allocation of 70,000 slots to state pilgrims boards and the armed forces.
In the approved list for the slots, the Commission allocated slots to 35 states of the Federation, including the Federal Capital Territory, FCT, Abuja. Akwa Ibom State did not receive any allocation.
Highest allocation of 6,004 was given to Kaduna State while the lowest allocation is Enugu State with 14 slots.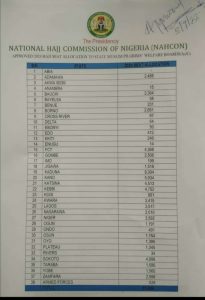 The National HaJJ Commission of Nigeria (NAHCON) has advised all Nigerians intending to travel for Hajj next year to save at least N4.5 million pending when the commission will announce a final Hajj fare.
The advice was given by chairman of the commission Alh. Zikrullah kunle Hassan on Tuesday during a Press briefing at the Hajj House headquarters of NAHCON in Abuja.
While fielding questions from journalists, the NAHCON chairman says the recent hike in foreign exchange may necessitate a rise in the cost of Hajj next year.
Nigerian pilgrims paid a little less than N3 million for this year's Hajj exercise. The dollar was exchanged at the official rate of N416.
However, recent changes in the foreign exchange window has seen the dollar exchanged at an average of N750 to N800.
In another development, Saudi authorities have henceforth, directed its Ministry for Hajj affairs to stop issuance of visa 50 days to Arafat, as against the old tradition of issuing visa even few days to the commencement of Hajj rites.
Speaking on the challenges encountered during 2023 Hajj operation especially with regards to the feeding of pilgrims at Muna and Arafat, the chairman stated that his commission had already written to the service providers in Saudi Arabia for refund. He said affected all pilgrims will subsequently be compensated