By 'Leke Yusuf
The delegation of the National Hajj Commission of Nigeria (NAHCON) is visiting Saudi-Arabia for the second time in preparation for year 2023 Hajj Pilgrimage.
In an update on its social media page; NAHCON said "A delegation of NAHCON while in the the Kingdom of Saudi Arabia had their first in-house meeting for the 2nd Pre-Hajj visit in preparations for the 2023 Hajj operations as held on the 24th of March at NAHCON UMMUL JUD OFFICE.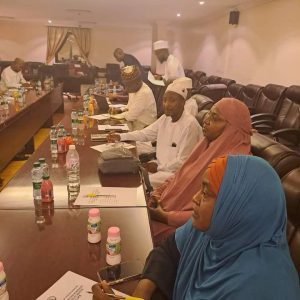 "The team is responsible for the following tasks:
1) To inspect Makkah and Madinah Kitchens.
2) Negotiation of contracts with service providers
3) To conduct meetings with AHOUN, States, Muassasah, accommodation service providers,
4) E-track training and 5) Final reports..
"The meeting was chaired by the Commissioner PPMF Alhaji Nura Hassan Yakasai who also led the delegation that was accompanied by Members representing CBN, Jama'atu Nasril Islam and Comm. South south.
"Among the delegation at the meeting: Director Administration and HR, Director Legal, Deputy Director PEO, other Directorate cadre and senior management staff."