ISLAMIC CLERICS PRAY FOR NIGERIA'S UNITY AND PEACE
ISLAM CLERICS
More than 200 Islamic clerics prayed for Nigeria's peace, unity, and stability, at the Palace of Mai Kanuribe of Lagos State, Ijora Badia, special prayers for peace and togetherness were also held for the Borno and Lagos Arewa communities.
The Islamic Clerics also prayed for Borno State Governor, Babagana Umara Zulum,  Shehu of Borno, Abubakar Umar Garbai El-Kanemi, Borno state Emirate Council, and the people of Borno State including those in diaspora, Arewa community, and all the northerners at large.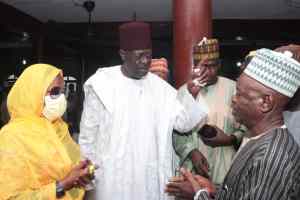 Special prayers were equally offered for Lagos State Governor, Baba Jide Sanwo-Olu, Oba of Lagos, Oba Rilwan Akiolu, Oba of Ijora Aremu Aromire Ayegdami and the entire South West leaders, and the people of Lagos who the Mai Kanuribe described as wonderful and marvellous hosts.
The Kanuri Council of Chiefs and Chieftaincy Affairs Lagos State, South-Western Nigeria, under the leadership of Mai Mele Abatcha prayed for Nigerian leaders for God guidance, peace, stability, protection, prosperity and blessings in their respective leadership drives.
The Mai Kanuribe who is also the Seriki Hausawa of Ijora land as well as the overall Seriki of Iganmu Kingdom expressed appreciation to the Kanuri Council, including the Ajjas (district heads) Zannas and other traditional title holders for their commitment to the one-day special prayer.