"UMRAH VISA BAN IS WORLDWIDE"- SAUDI AUTHORITIES
Google
The Saudi Arabia Ministry of Hajj and Umrah (MOHU) has confirmed that the Umrah Visa ban it placed a safeguard against the spread of the Corona Virus is indeed a worldwide ban.
The confirmation came via an enquiry made by Hotjist.com directly to the MOHU against the backdrop of a purported tweet by a popular Islamic personality; Hasib N on his twitter handle; @hasibmn listing a particular number as the countries as those affected by the Umrah Visa ban.
The MOHU responded by saying; Not true, Umrah visa holders are suspended world wide.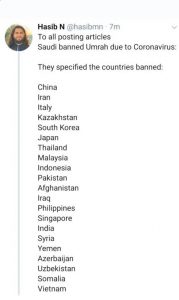 However, in unconfirmed sources within Saudi Airlines claim that the Visa ban may be lifted within 48hours after Saudi Airports and other entry points into the Kingdom have been equipped with equipment to detect potential victims and how to handle the cases.