Breaking News; Kemi Olunloyo converts to Islam
Kemi Omololu Olunloyo
in an IG post has officially announced her conversion to Islam, saying Islam is the peace she needs and that she now worships Allah through Prophet Muhammad (SAW)
She added that, although she was from a Christian background and of Catholic Origin but after going through all, she no longer finds the fulfillment she desires in the religion.
She however says that her conversion to Islam does not stop her from condemning extremism and terrorism in Islam.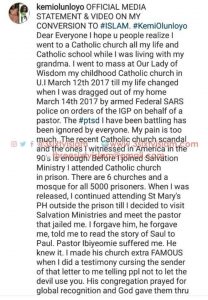 She urged fellow Muslims not to politicise her conversion.
She is daughter of
Victor Omololu Olunloyo
, former governor of
Oyo State