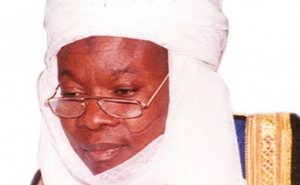 Late Alhaji Arisekola Alao; The Aare Musulumi of Yoruba Land
Born on  February 14, 1945, to the family of Alhaji Abdur Raheem Olatunbosun Olaniyan Alao and Alhaja Rabiatu Olatutu Abegbe Alao who hailed from Ajia in Ona Ara Local Government Area of Oyo State, the young Alao had his elementary education at St. Luke's School, Adigun, and later ICC Primary School, Igosun, both in Ibadan, after persistent persuasion of one school teacher, Mr J.O. Oladejo, because he initially was not interested in the acquisition of Western education, as he was contended with Islamic education which he began at the age of three years.
On completion of his primary education in 1960, he sat for the entrance examinations into two of the notable schools; Christ School, Ado-Ekiti and Lagelu Grammar School, Ibadan. He was the best candidate in the Christ School examination, while he emerged as the third best candidate for admission into Lagelu Grammar School.
However, despite his brilliance, he could not advance his western education as a result of the poor economic standing of his parents who were peasant farmers. But his lack of western education was compensated for by his sound Islamic education and a strong resolve. Buoyed by the zeal to survive and make a decent living, Alao ventured into business, armed with admirable qualities such as intelligence, shrewdness, truthfulness, aggressiveness and the determination to succeed. He had a brief stint with his uncle as an apprentice at Gbagi Market, Ibadan before going solo in 1961, vending Gammalin 20. Being a shrewd businessman, he was soon to become an agent of Imperial Chemical Industries.
No sooner had he started his business did he become a household name in his locality and the old Western Region. He built up his business and used the platform to build a wide network in politics and religion. His involvement in and support for religious causes made the Muslim Ulamah in Yoruba land to confer on him the title of Aare Musulumi of Yorubaland in 1980.
Alao was a detrabilised Nigerian, who accommodated people irrespective of their religious or ethnic backgrounds. Ever supportive of other people's dreams, Alao, despite the abortion of his dream of acquiring western education, helped the dreams of others with the establishment of Pa Raheem Alao Scholarship Foundation for indigent students of tertiary institutions.
He was a co-founder and highest donor of Barakat International School, situated at Bodija, while he also had endowments in a number of universities including private institutions of higher learning across the country. A foremost industrialist, he established a fleet of business outfits under the Lister conglomerate, which cut across food production, real estate management, insurance, transport, and publishing. He built the Abdul Azeez Arisekola Central Mosque along Iwo Road, Ibadan and employed a number of workers whose salaries he paid regularly, aside having three Islamic scholars also on its payroll.
Alao was among the Muslims who paved the way for the establishment of the Grand Council for Islamic Affairs in Nigeria in 1996 while he also financed the Muslim Students' Society of Nigeria (MSSN) and the National Council of Muslim Youth (NACOMYO), among other Islamic organisations even outside Nigeria. He was a member of the Board of Trustees (BoT) of the Nigeria Supreme Council for Islamic Affairs, NSCIA until his death.
A compassionate fellow, Alao built a 100-bed ward as part of Oyo State Muslim Hospital which was named Rabiatu Alao Ward, after his mother. His exemplary contributions to the growth of the nation as a whole earned him a national honour, Commander of the Order of the Niger (CON), during the administration of the late Alhaji Umar Musa Yar' Adua in 2008. Alao was also a lover of sport having elevated Alao Babes Football Club formed by the workers of The Monitor Newspapers and which won the Oyo State SWAN Media Games in 1998/99 to compete in the IFA league in the state.
Alhaji Arisekola Alao would have been 73 years old this February.
May Allah grant him janatul firdaus
Source: Ganiyu Salman, Nigerian Tribune